---
Member of The American Association of Christian Counselors
The Association of Christian Therapists
---

Pastoral counselors are clergy who have received graduate training in both religion and behavioral science for a clinical practice that integrates psychological and theological disciplines.
Pastoral counselors believe that there is a God in whose image and likeness we are created. They believe that we yearn for a transforming connection with the divine, and that psychotherapy can mediate the loving and healing nature of being itself.
Pastoral counselors also make therapeutic use of traditional religious resources such as prayer, Scripture reading, and participation in the worship and community life of a congregation. They pay special attention to the religious history of the client and his or her family, noting how it may contribute to the suffering or resources needed for coping.
One psychiatrist has called pastoral counseling "clinical theology" - the search for a revelation of love, forgiveness, and good news to people who have been in bondage to their feelings and the past.

Since the beginning of his career over a decade ago, Charlie's vision and philosophy has been the expansion of Christian mental health services.
It is our hope that affordable, effective, and accountable services are available to the largest possible number of individuals requiring our services. We will continue to provide state-of-the-art treatment using the most qualified clinicians. We gladly accept Medicaid, Medicare and most commercial insurance.
Where you can find us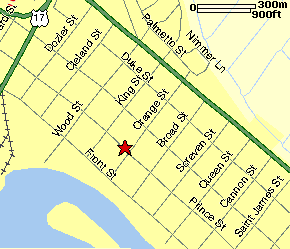 Location and Hours
We are conveniently located in downtown Georgetown, South Carolina on Prince Street, between Orange and King Streets. Appointments are available Monday through Friday from 7:00 am to 8:00 pm and Saturday 9:00 am to 2:00 pm.

Outpatient Mental Health
Substance Abuse Treatment
Employee Assistance Program
Pre-Employment Evaluation
Our Staff
We provide a multi-disciplinary staff to effectively and efficiently serve the needs of our clients.
Psychotherapy and Family Counseling by therapists who are state and nationally licensed in both mental health and substance abuse treatment
Psychological testing and evaluation by a licensed psychologist
Child and adolescent services provided by board certified child and adolescent psychiatrist
Psychiatry by a board certified psychiatrist and board certified addictionologist
---
Outpatient Mental Health
We provide a full range of mental health services. These services are provided by licensed clinicians, with years of experience, in multi-disciplinary mental health treatment.
Christian Counseling
Group and Individual Psychotherapy/Counseling
Marriage and Family Therapy
Stress and Anxiety Management
Psychological Testing and Evaluation
Full Psychiatric Services
Child and Adolescent Services
Inner Healing with Physical & Sexual Abuse Victims
Anger Management
Employee Assistance Program
A special service offered to employees to ensure productivity, safety, workplace harmony, and decreased turnover.
Guide employees through alcohol and drug problems
Help employees resolve family crisis
Provide educational seminars for employees and management
Assist employees through major life stressors
Drug screening and follow up counseling when required
Critical incident debriefing
Pre-Employment Evaluation
We provide state-of-the-art psychological testing and substance abuse screening for employers which includes in-depth personality testing predicting the employees potential...
Conscientiousness
Agreeability
Interpersonal skills
Personality style
Efficiency
Alcohol and substance abuse
Substance Abuse Treatment Center
Intensive treatment for alcohol and substance abuse is available on an outpatient basis. The program is fully licensed by DHEC. This program is designed with the client, by his/her family, and the client's employment in mind.
Recovery from addiction while remaining in the home
Individuals maintain employment while in the recovery process
Programs can be customized to agree with the client's home and family obligations
Recovery in the environment where the client must live
Affordable treatment payment plans are available to help clients meet the financial component -- most insurance plans cover this treatment
---
---
[PREV 5 SITES | RANDOM SITE | SITELIST | NEXT 5 SITES]

InDepthBibleStudyWebring WebRing
---
[PREV 5 SITES | RANDOM SITE | SITELIST | NEXT 5 SITES]

RadicallySaved WebRing
---
[PREV 5 SITES | RANDOM SITE | SITELIST | NEXT 5 SITES]

TestimonyofFaith WebRing
---
[PREV 5 SITES | RANDOM SITE | SITELIST | NEXT 5 SITES]

inhisimage WebRing